Fermented red ginseng extract DUO GOLD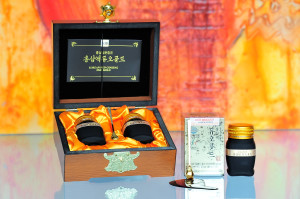 Product name : Fermented Korean Red Ginseng Extract DUO GOLD
Content : 50g / 100g / 150g
Ingredients : Red ginseng extract(ginsenoside Rg1 , Rb1 and Rg3 : 12mg/g) 70%, Fermented red ginseng extract(red ginseng extract, yeast extract, isomaltooligosaccharides, vitamin C, bifidobacterium) 30%
Ratio of source ginseng : Red ginseng body 40%, Red ginseng root hair 60%
Inner packing material : Glass, rubber
Health Functions: Help in Improving immunity, Improving from fatigue, Blood flow through inhibition of platelet aggregation, Improving memory, Antioxidant
Recommended intake and method : Once a day, intake 1g, directly or diluted with water. Can add sweetener for preference. If overreacting, reduce intake amount, and gradually increase. Be careful with Aluminum cap when opening bottle.
Caution : If pregnant or nursing and baby, recommend not to intake. Please refer to doctor, if taking medicines (of high blood pressure and blood anticoagulants).
Storage : Store in a cool and dry place, out of direct sunlight. After first opening, keep cap closed for storage.
Manufacturer : KUAN Industrial Co. Ltd.